As appeared on Benzinga on September 6th, 2016. The original article may be found here.
Stockal, a firm that analyzes social and analyst sentiment, recently reviewed data to see how analyst confidence relates to company earnings using their Confidence Meter, which measures the aggregated opinion of over 200 Wall Street analysts.
Apple Inc. :AAPL appeared to maintain analyst confidence throughout most of August after its July earnings beat. Apple recently asked its suppliers to not only discount parts, but also to reduce the number of parts supplied due to a decrease in consumer need stemming
from the growth of competitive Chinese smartphone start-ups. Even in the wake of Apple's $14.5 billion tax question with the EU, analyst sentiment remains mostly positive.
Apple is trading around $108 Tuesday morning.


Barrick Gold Corporation :ABX experienced a decrease in stock price as the month continued. According to the Stockal graph below, confidence dropped fairly significantly. There is, however, reason to believe that a segment of analysts maintained their confidence. With Brexit spinning the value of gold into a tizzy earlier this summer, investors might be waiting to see what happens next.
Barrick is trading at $18.58 Tuesday morning.


Long considered a dog, analyst confidence in BlackBerry Ltd. :BBRY remained lower relative to price in most of August, though that changed at the end of the month. The big rating here was JP Morgan come out positive on the stock after the company announced some debt reduction moves.
BlackBerry is trading at $7.70 in Tuesday's premarket.


GrubHub Inc.: GRUB bounced off a mid-month low of $36.03, but spent the second half of the month rallying to over $40. However analyst confidence hasn't change much. Loop Capital initiated the stock at a buy, but Jefferies came back with an initiation of their own at Hold. Overall however, analyst sentiment remains mostly positive.
Grubhub is trading at $41.47 Tuesday morning.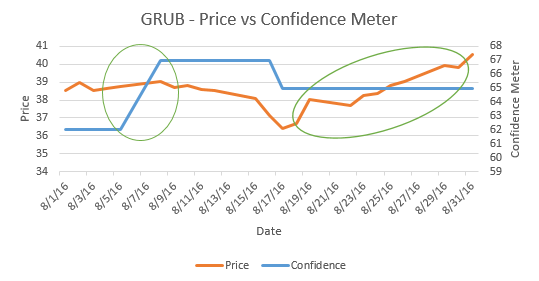 Ctrip.com International, Ltd. :CTRP which got a Buy rating and $52 price target from Goldman Sachs at the end of July, saw a slight rally in the first half of August. Ctrip closed out the month with a positive note from JP Morgan. In its coverage of Chinese stocks, JP Morgan declared Ctrip the winner of the market's travel consolidation.
Ctrip was trading around $48 in Tuesday's premarket.